After an update yesterday, wifi stopped working. I attempted to fix it on my phone by setting up a netplan, because network manager wasn't appearing in all the queries I did on the command line, but was unable to, and eventually resorted to plugging in a spare ethernet cable, which network manager responded to, so I undid the netplan stuff (it was working but I wanted to leave it like I found it) and used that because I had a deadline.
Currently, the package updater is suggesting that I remove… a LOT of packages. I am unsure if this is in error that will make things worse, or a fix. My system works on ethernet fine, so I don't want to risk bricking more stuff.
The other wifi-breakings in this support forum seem to be older, and I'm more concerned about it seemingly want to delete half the things on the computer. This install is fairly new with effectively no mucking about on my part outside of configuration options in guis (barring changing the netplan to point to my router and then undoing it).
Here is a section of the things it wanted to remove (it did not have replacements for them, afaik, just a few python and other things)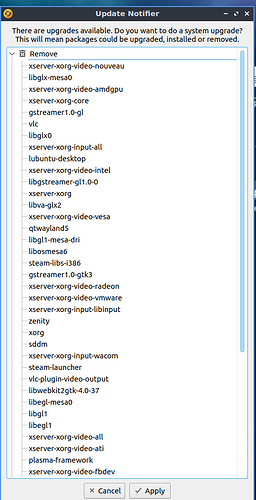 I have a full parts list of my computer: a notable anomaly is that I don't have a GPU right now. https://pcpartpicker.com/list/ZFRWGP
Here are some commands:
lsb_release -a
No LSB modules are available.
Distributor ID: Ubuntu
Description:    Ubuntu 22.04.2 LTS
Release:        22.04
Codename:       jammy

part of lspci
0a:00.0 Ethernet controller: Realtek Semiconductor Co., Ltd. RTL8125 2.5GbE Controller (rev 05)
0b:00.0 Network controller: MEDIATEK Corp. Device 0616

I don't know enough to know what parts of the other commands might be important.
For now I'm just not gonna let the update go through because it seems like it might make things much worse.