Here are a couple of shots for the upcoming 20.04 LTS release:

Version 20.04 LTS - simple and clean with a shot of one of my favorite hiking areas for wallpaper.
And of course a shot with the official wallpaper!
Lubuntu 18.04 LTS:
Using LXDE
Login:

First initialization:

Desktop Educational:

Some apps running:

neofetch:

Lubuntu 20.04 LTS (Daily):
Using LXQt
neofetch:

Where did you get your themes and icons, and what font are you using?
You can found all this information in:
I was doing a customization of the desk and I think it looked nice enough to share around here:
Lubuntu 20.04 LTS (LXQT) with Dracula's theme
(Using themes for Kvantum, GTK and an Openbox theme made by me: Dracula-Openbox)
Login
(A personal modification to one fork theme, called Magenta, of the SDDM theme Sugar-Dark to see how these themes are modified and because this one failed)

Here are a couple of 20.10 Groovy Screenshots:

Okay, I have tried the new lubuntu 20.10 from the live usb for some time. And I think it is very polished and will suit users very well. If I had another computer, I would have definitely tried it out.
Excellent work by the team who worked hard to bring this new release to life. Thank you very much to good people who were involved in the project.
My laptop configured with 20.04:
The top bar disappears and only appears if I leave my cursor at the top for 1.5 seconds.
A better shot of my theme and icons: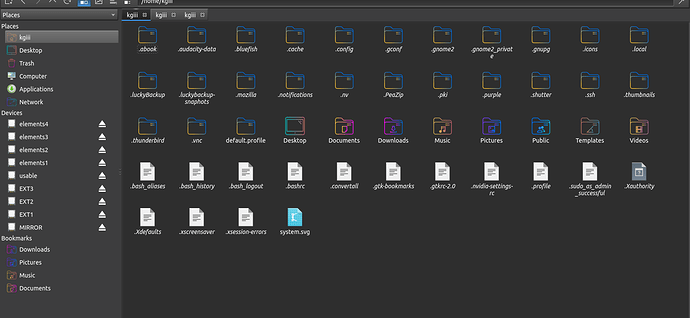 Hi,
I can't see the last three post screenshots.
I can't upload new screenshots (image files) neither, I get an error message when I try it.
I have tried different browsers (Firefox, Chrome, Google, Samsung browser) but it is useless.
Greetings.
@snowfluke @ubun-ie Should probably have put a note about the image problems in #site-feedback:discourse-support for those issues. In any case, fixed now - the S3 (simple storage service) backend the site uses went a little wonky and stopped responding to requests. That's fixed now.
Teward, thank you for your clarification.
Here, a new desktop screenshot:
Lubuntu 20.04
Lxqt theme: kde plasma
Dock: Plank
Greetings.
Thanks @guiverc for the screenshot of Hirsute Hippo 21.04.
Nice login screen! Great work!
What I did yesterday can be found at lubuntu impish - Google Drive
alas I didn't think ahead with the install; when it didn't let me easily delete the 'chris-' at the front of the hostname field; I just ^A & replaced with 'ultracrap' which can be seen in panel; that's not a good name